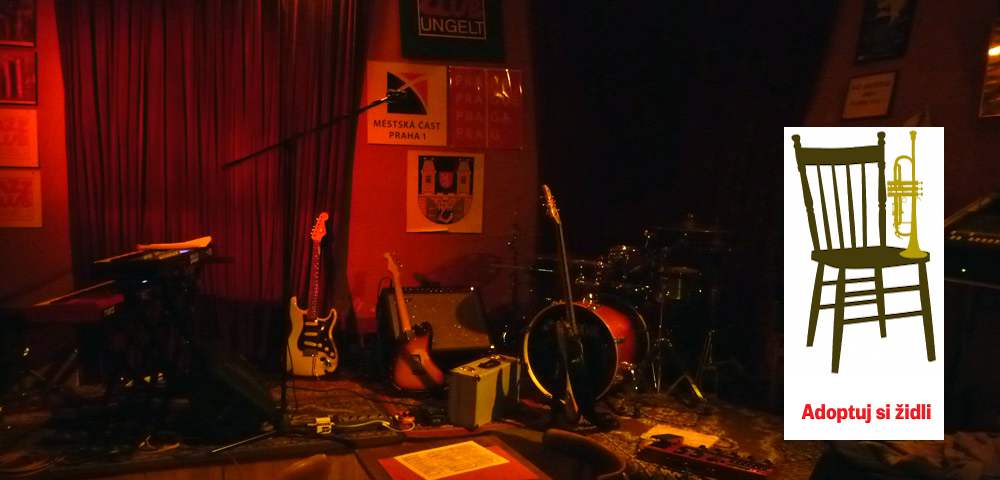 Club pub (ground floor)
Open daily 2pm - 12pm
Stop by on a stroll through Old Town!
Beer 0,5l ... 46kč
Wine 1dl ... 30kč
Coffee ... 45kč
Jazz Club (cellar)
Concerts from 9pm - 12pm Ticket 250Czk (ONLINE TICKET JUST FOR 200CZK)!
Entrance to the club is through the club pub. Open doors from 7:00pm.
Tickets for events are available at our club pub daily from 2pm (reservations recommended).
Family business focused on blues founded in 2000. We offer live music, a wide range of cocktails and great food in the pleasant atmosphere of a Romanesque cellar.
Adopt a chair at JAZZ CLUB UNGELT
"We don't want to stop playing great jazz a blues"
Do you want to have your honorary place in a jazz club in the center of Prague? Adopt a chair at Jazz and Blues Club Ungelt.
By adopting a chair of your choice, we will have your name engraved on it.
What else? You will have 15 free tickets to any performance in years 2020/2021. #jazzalive #keepgoing #chairadoption #jazzandbluesclubgo
So? Come and support us.
How can you become the adoptive parent of a jazz chair? Write to info@jazzungelt.cz, and put "chair adoption" into the subject of the email. We will reply ASAP regarding details.
Anyone, who donates at least 2 500 CZK can become an adoptive parent.
Contact information
Only 110 steps from the Old Town Square
TÝN 2, PRAGUE 1
FOR MORE INFORMATION PLEASE CALL:
RESERVATION
& INFO

+420 224 895 787 (GASTROPUB & JAZZ CLUB 3pm-12pm)
RESERVATION
& INFO

+420

734 147 297

(JAZZ CLUB 8pm-12pm)
(manager) +420
734 587 600

(info & reservation)